WELCOME TO TOUR MAX

Items under TOUR MAX brand have been researched and developed by personnel with more than 25 years' EXPERIENCE.

TOUR MAX Items are supplied from JAPAN and they have well been accepted among our customers in North America, Europe and Oceania. Under strict quality control, TOUR MAX Items are made and the quality meets or exceeds O.E.M.

We intend to develop new items to satisfy user's potential demand from now on.
"TOUR MAX" REGISTRATION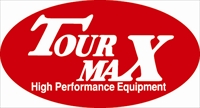 "TOUR MAX" is a trade mark of MC International, Inc., Osaka, Japan established in 1972.
It was registered on April 02, 2008 under international registration No. 964729 in European community.
Due to superb quality, it already became a symbol of quality products in the market.
However we have found that there are some products sold with same mark or with very similar packaging design as ours. It is giving much confusion to our customers.
Please be aware that those products are not ours and quality is not guaranteed by us.
Beware of imitations.